Theft Prevention Tips
To suggest a new tip, please click here
Please enter your contact information and we will get in touch with you shortly. Fields in yellow are required.
Equipment Theft Prevention
Tip #1
Have you had a piece of construction equipment stolen? Notify the Manufacturer of the theft immediately after calling the Police. Caterpillar, John Deere and Case all keep accurate files on all reported stolen equipment. Many times stolen equipment has been brought into a dealer for repair work or parts and has been recovered because of the Manufacturer's stolen equipment database.
Equipment Theft Prevention
Tip #2
Have a welder inscribe your company name on the buckets, boom and frame of your equipment. Not only will this allow the Police to be able to determine 24 hours a day who owns the machine, but it will also deter thieves from stealing the equipment. Criminals don't like stealing something that has such obvious identifiers on it as the owner's phone number and because it is so difficult to grind off, it makes the equipment "less desirable" and thieves will look elsewhere. Painting the phone number and name on also has the same effect but can be removed very quickly.
Equipment Theft Prevention
Tip #3
For All You Caterpillar Owners Caterpillar have announced they have begun installing a new key ignition system similar to the GM type of key that has a "chip" installed in it. It will be possible to key all your equipment with the same "code", or you can code each key to whatever equipment you want that operator to be able to operate. The ignition switch is a magnetic type that "reads" the key when it is installed and because of the computerized wiring system, the machine cannot be hotwired to bypass the key. As well, Caterpillar have announced that you can purchase this system for your present equipment. Contact a Caterpillar dealer for more information or send us a request and we will email you the 7 page brochure.
Equipment Theft Prevention
Tip #4
Have a problem losing compressors, generators or lighting platforms? Try welding a large piece of rectangular steel plate the same dimensions as a tire onto a wheel rim. When you place your equipment at the desired site, remove one wheel and rim, and install the rectangular square onto the wheel rim housing and then use a set of "locking wheel lug nuts" to bolt it on. No one can then hook on and drive away with your equipment.
Equipment Theft Prevention
Tip #5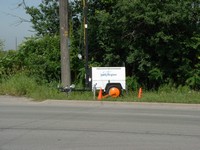 Here is another way to protect your compressor, generators and other mobile equipment that are left in unattended locations. Originally sold under the name "Denver Boot", a welder can manufacture these very easily and they immobilize your equipment from being hooked up and towed away.
Equipment Theft Prevention
Tip #6
Install a theft recovery device on your equipment. Sophisticated criminals can get around even the most sophisticated preventative measures. Covertly installed systems can help get equipment back, often within hours of a theft being reported.